Ask Aiden about any US property. Your AI copilot will respond in seconds!
Meet Aiden, your new AI real estate copilot.
About a year ago, our team launched BHR. Since then, we've created the most comprehensive, current, and accurate data source, RealReports™, for any home in the US by gathering billions of data points across 150+ million residential properties. 
Now, we're making it even easier. Instead of sorting through the data on your own, all you need to do is ask Aiden, a question and your new AI copilot will answer instantly.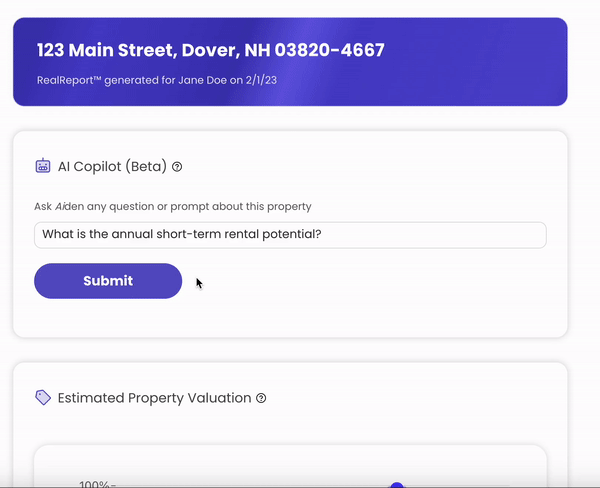 No more time wasted by tracking down data, no more wasted money paying multiple and expensive data providers, and no more lengthy enterprise contract negotiations. All the information you need is available in one place. Instantly. ✨
Need the permit history, climate risks, open liens? Aiden knows.
Nowhere else will you be able to find an AI real estate copilot as powerful as Aiden. We've trained our AI by combining ChatGPT's advanced natural language processing with the corpus of real estate data we've assembled on BHR. Like any AI, the more you ask Aiden, the smarter it gets.
Click here to try Aiden for free.
This is just the beginning and we'd love to hear your thoughts so feel free to leave feedback, suggestions, or questions in the comments!