Claiming the verified non-fungible token (NFT) of your home on Blockchain Home Registry is easy. Follow our step-by-step guide below!
8 Easy Steps to Claim the NFT of Your Home on Our Blockchain Home Registry (BHR)
#1 Go the BHR Website
To begin the home claim process, visit the BHR website on your desktop computer or mobile device and click the "Claim my home" button on the homepage. This will take you to the BHR dashboard where you will manage your home's records, data, and documents once you claim it.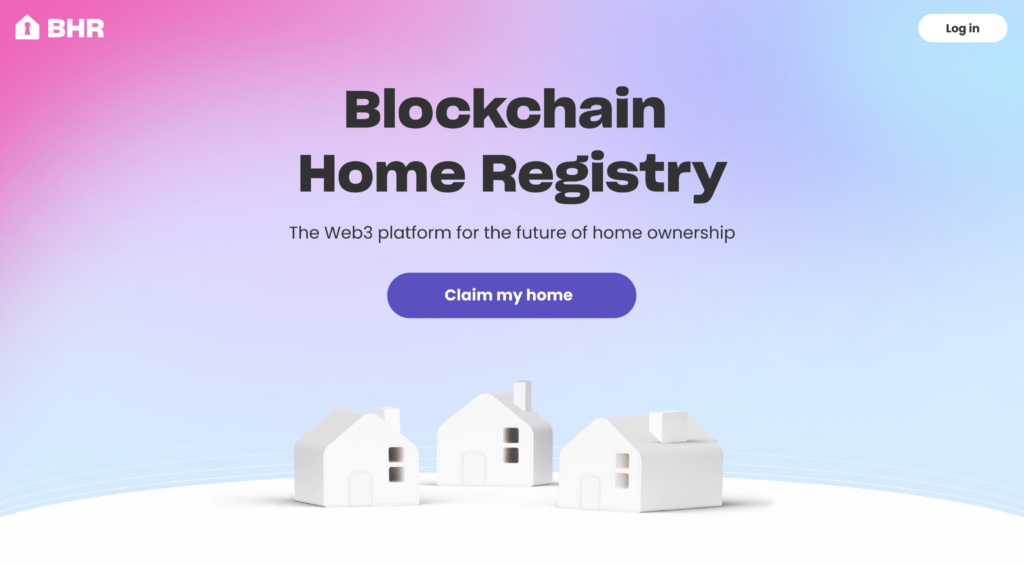 #2 Enter Your Address to Claim the NFT of Your Home
Enter and select the address of the home you would like to claim in the lookup field. A window will appear asking you to log in or create an account. If you already have an account, select one of the log in options otherwise, click 'Sign up' to create your BHR account.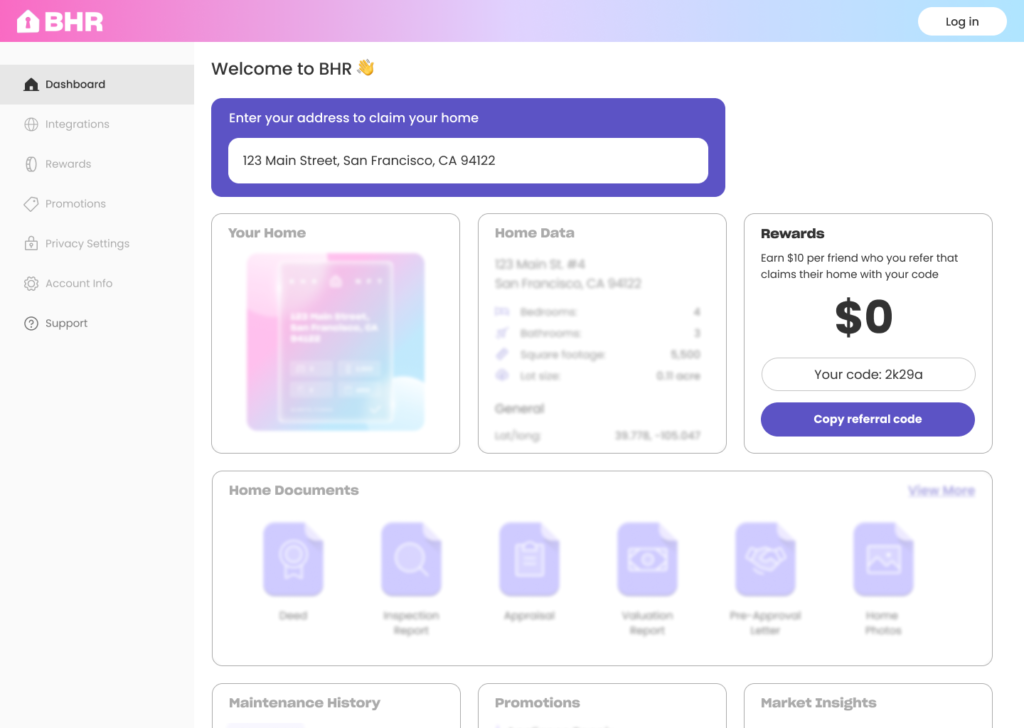 #3 Verify Ownership
Once you have created an account, the first step is to verify that you are the owner of the home that you want to claim. Enter your legal first and last name as well as your email address. Please ensure that your name is entered as it appears on your homeownership records (i.e. deed, mortgage, etc.)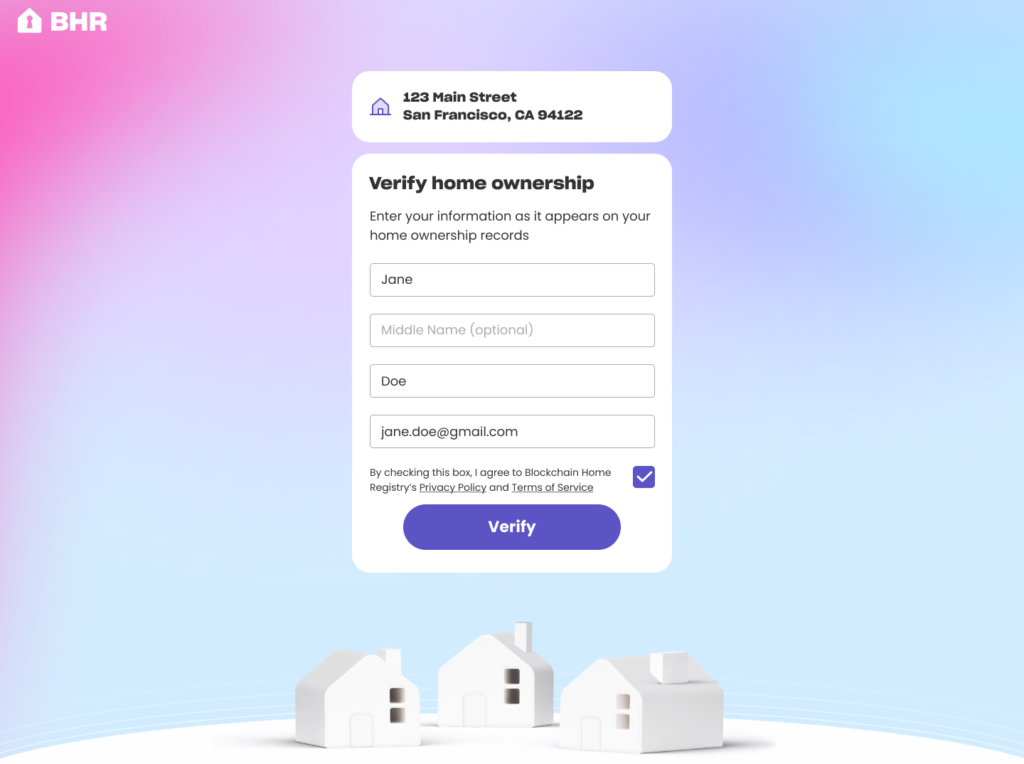 NOTE: If you bought your home with a spouse, partner, or friend and you get an error, try again using their legal first and last name. If you are still unable to proceed, please contact our support team or email us at info@bhr.fyi.
#4 Verify Your Email Address
Once you have successfully verified your homeownership, you will be asked to verify your email address as well. You will receive an email at the email address you entered on the previous step. Enter your email verification code to proceed.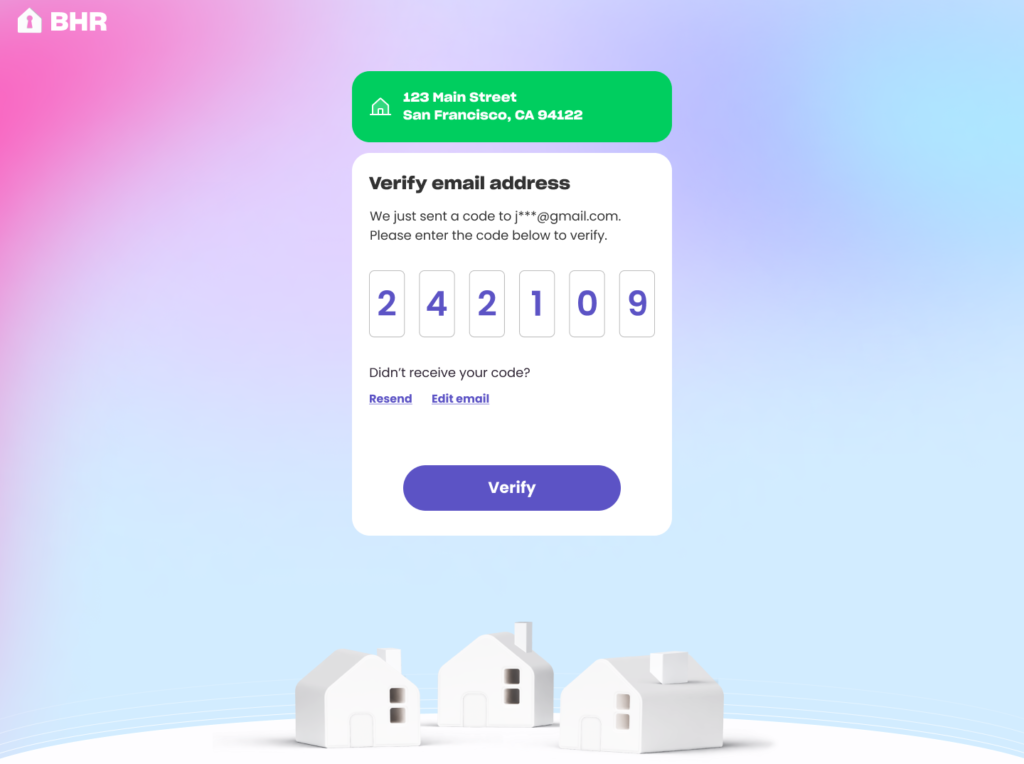 NOTE: If you do not receive a verification email, please click the "Resend" button to try again. If that does not work, double-check that you entered the correct email address by clicking "Edit Email".
#5 Promo Code
After you have verified your email address, you will be brought to the claiming details page. It costs $50 to claim the verified NFT of your home on BHR. If you have a promo code, enter it in the field and click "Apply" (a little bird told us that there are a few promo codes floating around Twitter 🐦). For a limited time, claiming your home's NFT is free when you use the code FREE50. If your code was accepted, you will see the details of the discount on the screen.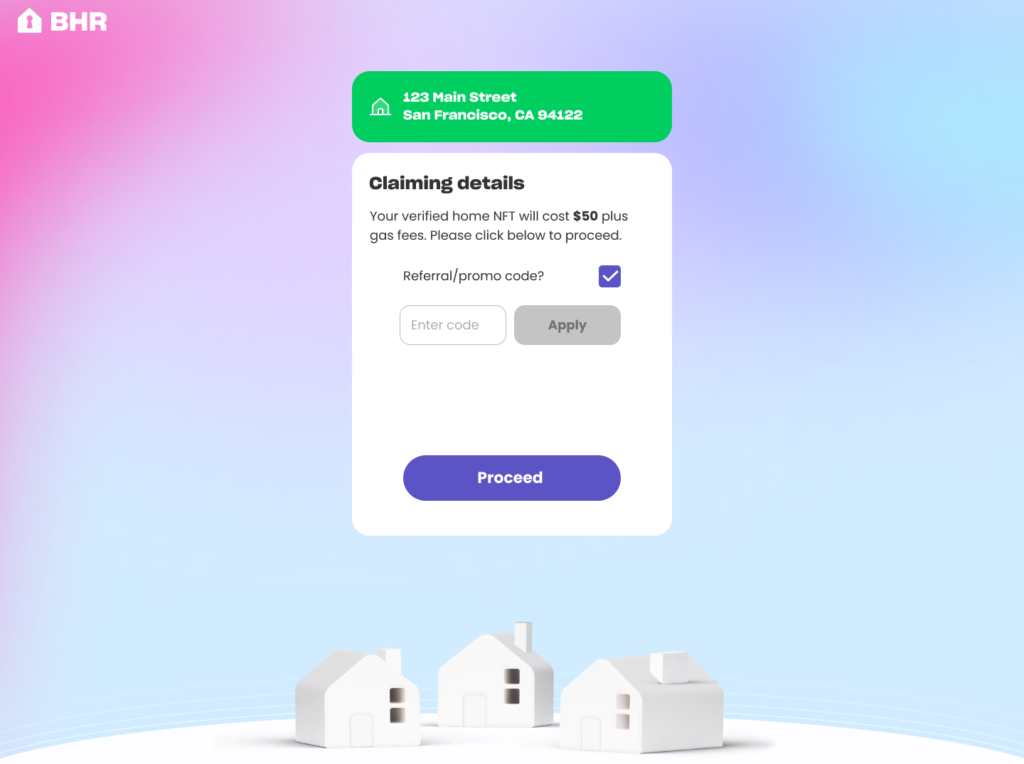 In addition to the verified NFT of your home, anyone who claims their home will also receive access to the BHR platform as well as an instant free home valuation.
Benefits of Our Free Home Valuation
Estimating the value of a home – or "valuation" – typically requires expert insight from real estate professionals. Realtors, real estate agents and other industry professionals consider comps, recent trends and unique details of your home when estimating its market value. Estimates of your home's value will change over time as the home ages and buyer preferences change.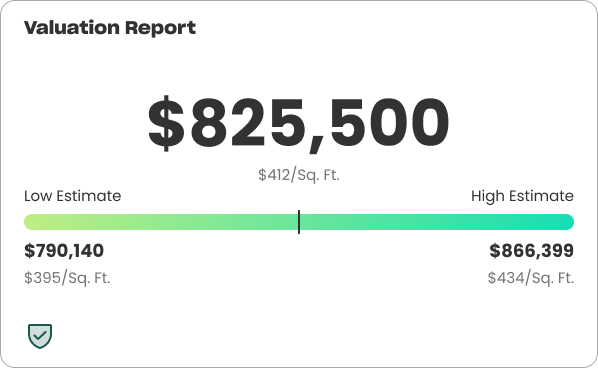 First-time homeowners might think that real estate valuations are only important when listing a home for sale. However, valuations can be incredibly helpful in many other situations. As Jean Folger notes in an article for Investopedia, an accurate valuation is necessary for refinancing, "investment analysis, property insurance, and taxation." BHR is all about providing homeowners with all the data they deserve. The valuation that comes with the purchase of your home's NFT is just the first in a long line of data you'll control.
#6 Verify Your Identity Through Stripe
Click proceed to continue to the identity verification step. Security is of the utmost importance to us at Blockchain Home Registry. As such, we require that all homeowners submit government-issued identification. Using this ID, Stripe will verify that you are the real owner of the home you are trying to claim.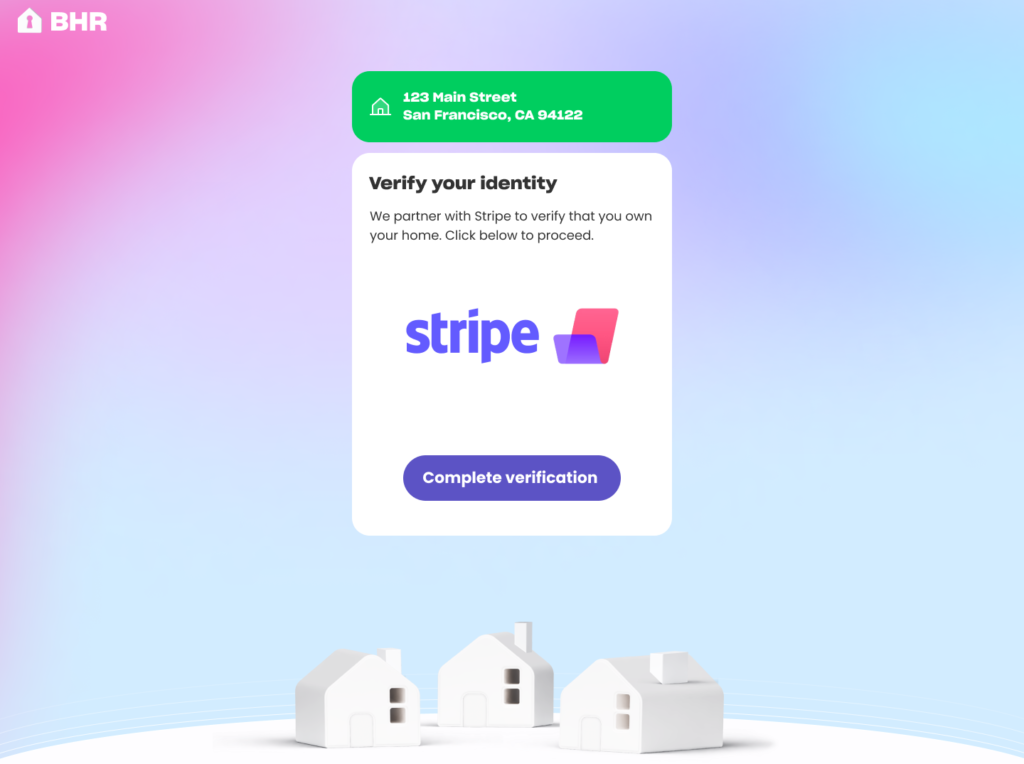 Our identity verification process is powered by Stripe. You will need to take a screenshot or upload a photo of the front and back of your ID card. You will also need a clear photo or selfie of your face. This step may also be completed by sending a text to your phone, which many users find much easier than completing on their computer.
NOTE: Please make sure that all the photos/screenshots you upload are clear and have good lighting. If you upload photos that are blurry and/or dark or hard to see, your identity verification may be rejected. If this happens, you will have to resubmit with new photos. Verification might also fail if your ID is invalid — i.e. expired.
Identity verification may take up to five minutes to complete. You will see the status of your verification at the top of the dashboard. Once your identity has been successfully verified, you will see the status change from "Pending" to "Verified."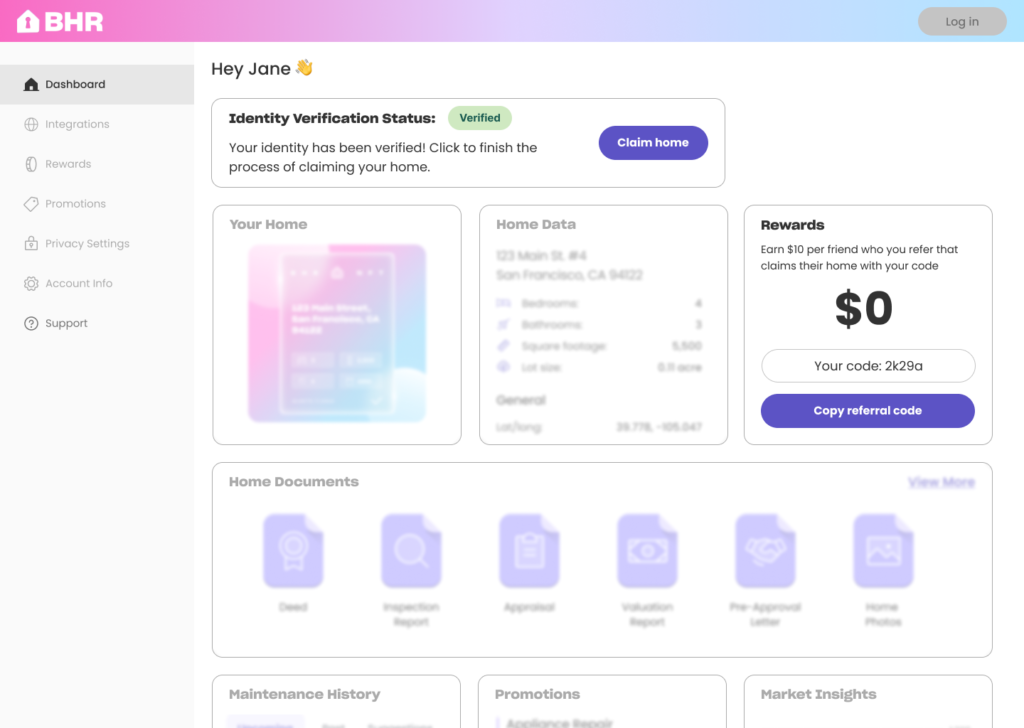 #7 Select Your Payment Method
Now you are ready to claim the NFT of your home! Click the "Claim home" button on the Dashboard and select a payment method. You can pay with USD using a credit card or in Ethereum using either a Coinbase or MetaMask crypto wallet.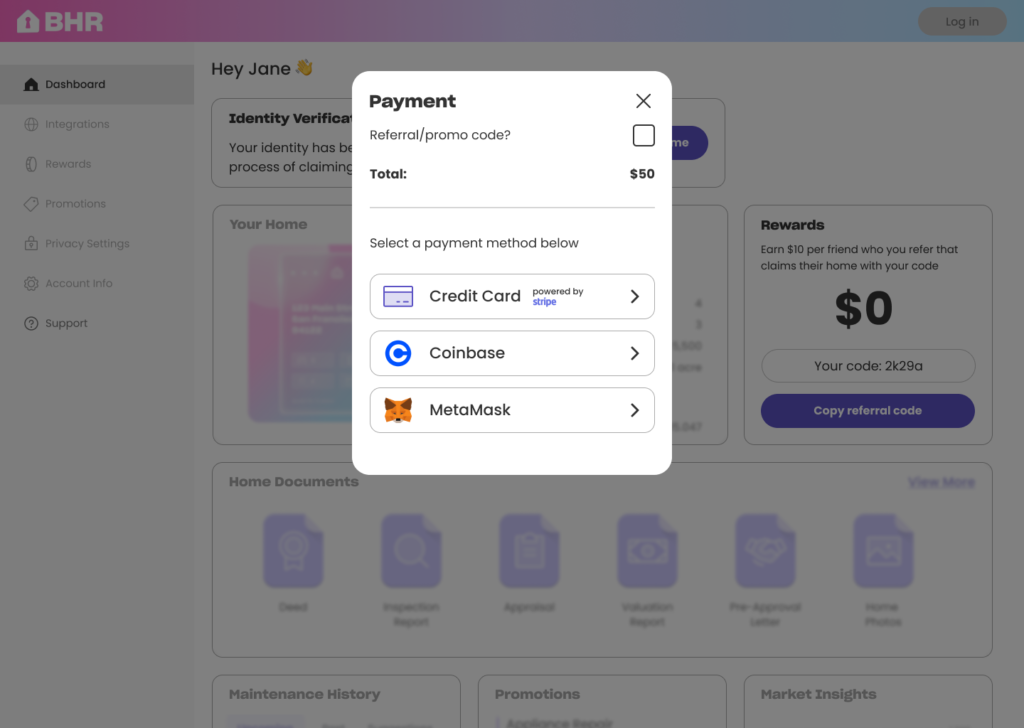 We partner with Stripe for our credit card purchases. If you select credit card as your payment method, you will be brought to a screen to enter your credit card information and confirm your purchase. Once you click purchase, you will return to your Dashboard and see a placeholder NFT appear in the "Your Home" section of the page. Generating the NFT of your home may take a few minutes.
#8 Confirm the Transaction in Your Crypto Wallet
If you select either crypto wallet option as your payment method, you will see the cost to mint the NFT of your home as well as the gas fees. BHR uses a custom-coded ERC721 contract that has been optimized for the lowest gas fees possible. That said, gas fees on the Ethereum blockchain will vary depending on how many transactions are taking place on the network. If the gas fee looks high, wait a bit and then try again once gas fees are lower. So far on average, we've seen gas fees between $10-25.
Once you click confirm, your home NFT claim will initiate as it is confirmed on the blockchain. Click "Done" on the screen to return to your Dashboard. You will see the placeholder NFT appear in the "Your Home" section of the page until the minting has been completed, which may take a few minutes.
Congratulations! You Now Own the NFT of Your Home Through BHR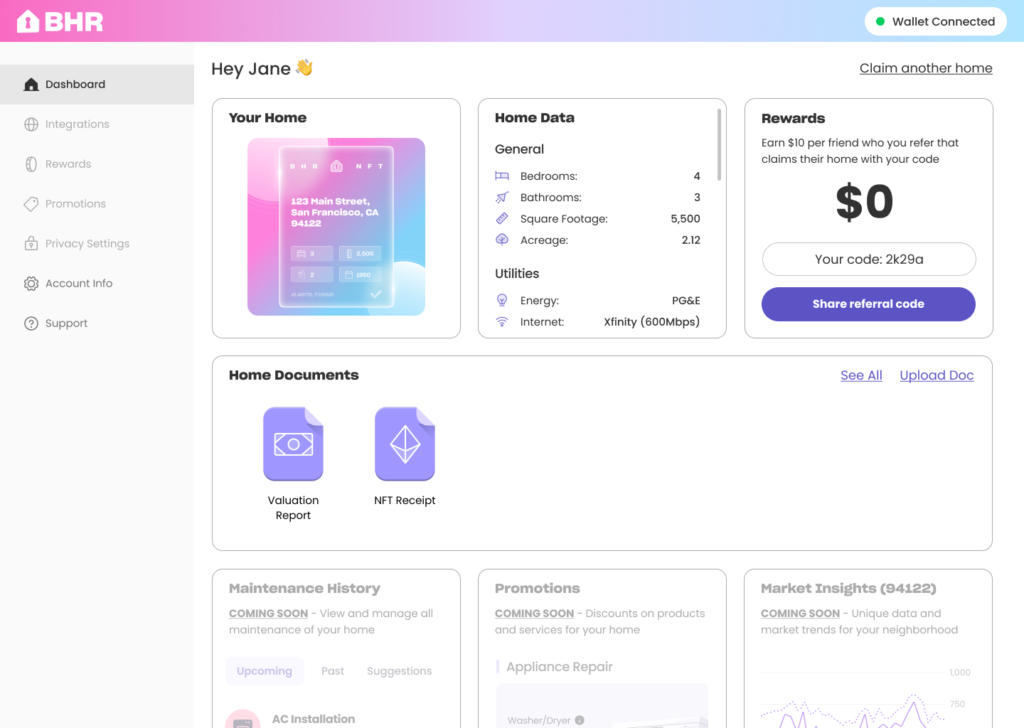 Once your transaction is complete, your Dashboard will refresh and the verified NFT of your home will appear on the 'Your Home' section – congrats! You can view your free home valuation under the 'Home Documents' section as well as upload any of your home-related documents directly to your BHR dashboard.
We will constantly be updating the BHR dashboard and platform with new features. If you have anything you'd like to see, please contact our support team or email us at info@bhr.fyi.
—
Claim Your Home – https://bhr.fyi/
Follow BHR on Twitter – https://twitter.com/BlockchainHomeR